SAU to Receive $490K from Omnibus Funding Bill
Saint Augustine's University (SAU) will receive $490,000 from the Omnibus Funding Bill for Fiscal Year 2023. The funding is part of the $26,890,641 announced by Congresswoman Deborah Ross (NC-02) for community projects across Wake County.
"I fought for funding for these essential projects because I know they will make a positive difference in our community," said Congresswoman Ross in a statement. "This week, we are coming back to Washington and putting politics aside to make government work for the American people. From Raleigh to Wendell, these projects address critical needs in Wake County and represent transformational investments in families, students, seniors, and more. I look forward to voting for this package and working with local leaders to ensure these projects deliver tangible results for North Carolina."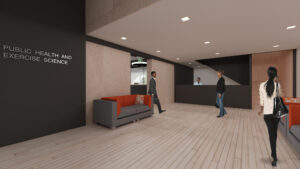 SAU will use this funding to open its Tuttle Public Health Center (TPHC), now known as the Public Health Education Center (PHEC). 
"Congresswoman Ross' advocacy uniquely positions us to build upon our long-term history in healthcare," said SAU President Dr. Christine Johnson McPhail. "We have the idea that SAU will be the center for providing opportunities for healthcare preparation globally."
In addition, the PHEC will support health and wellness education, student research regarding the long-term effects of COVID-19, and related programs that will benefit SAU students and the surrounding community. Funding will be used to support faculty, establish smart classrooms for students, and purchase research and lab equipment.
"This grant will strengthen our public health program," said Dr. Mark A. Melton, Interim Provost & Vice President of Academic Affairs. "We appreciate Congresswoman Ross and her efforts to assist SAU with this endeavor."
The U.S. House of Representatives and U.S. Senate will vote on the package this week.
Click here to read more about Congresswoman Ross' announcement.